 listed below by experience level
Family-Friendly hiking spots
A moderate challenge with stunning payoff
For those who like a challenge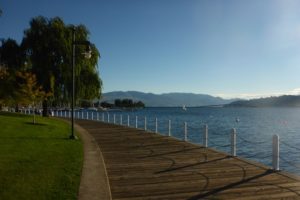 Kelowna's waterfront board walk is a great way to start your trip and explore what Kelowna has to offer in the downtown core. This 2 km walk is directly alongside Lake Okanagan which ventures through Rotary Marsh Park (Bird Sanctuary as the locals call it), City Park & Hot Sands Beach. Along your walk be sure to either get an ice cream on a hot summer day from Parlour Ice Cream or enjoy an amazing meal on the board walk at Cactus Club Café (Yacht Club location).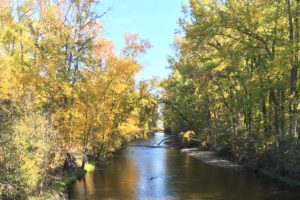 This beautiful trail system has multiple access points:  
Springfield Road at Durnin Road: This is the main access point with ample parking, a playground for the kids and washrooms. Starting from here gives you access to multiple trails. Going alongside the creek and also up the hill where you'll find a hidden turtle pond!
Mission Dog Park Trail Head:   If you're staying in the Mission area or have a pup that you'd like to let run free before or after your walk this is the perfect access point for you. This is near the beginning of the greenway which goes for a total of 16.6 km one way!
Scenic Canyon Regional Park: Off Hollywood Rd. S., this access point is further up the greenway and is is the most scenic part, with slight elevation and small bridges that allow you to cross Mission Creek.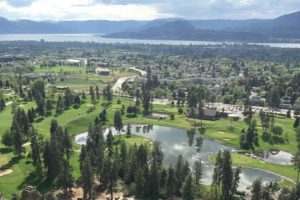 With spectacular views of the whole city, Dilworth Mtn. has a number of easy trails for the whole family.
On the southwestern edge, off Chilcotin Crescent, is the least difficult trail, where you can look directly down on the prestigious Kelowna Golf & Country Club.
The Loop trail accessed from Selkirk Drive skirts around the highest portion of the park through pine forests. In late spring the hillsides are decorated with Kelowna's official flower, the Arrowleaf Balsamroot aka the Okanagan Sunflower.
Off Skeena Drive there are a number of narrower trails that circle through one of Kelowna's higher altitude neighbourhoods.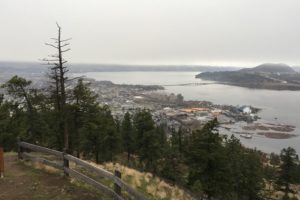 With a wide range of trails, and only a 20 minute walk from downtown, we narrowed this down to our two personal favorites!
Apex Trail: This is the main trail up the mountain, roughly a 15 minute hike to the first lookout and a 45 minute climb all the way to the second lookout. Make sure to bring plenty of water in the summer for the 300 m elevation change, and you'll be rewarded with stunning views of the city, valley, and of course, the lake. If you prefer an easier way up or down, follow the paved road, route for the world famous Knox Mountain Hill Climb every spring.
Paul's Tomb: This out-and-back 6 km trail starts at the first lookout and ends at a hidden beach which is perfect for a refreshing dip on a hot summer day. The total elevation change through the Ponderosa Pine lined trail is less than 100 m and there are multiple benches, for relaxing rest stops.
Kettle Valley Railway Trestles
One of Kelowna's most popular attractions is the Kettle Valley Rail Trail which runs along the Myra Canyon over 18 wooden trestles and through 2 tunnels. The trail is flat and wide, and perfect for an easy hike or cycle. The most popular trailhead is about 24 km from downtown and accessed off McCulloch Rd and Myra Forest Service Rd. The drive there includes about 8 km of well-used gravel road.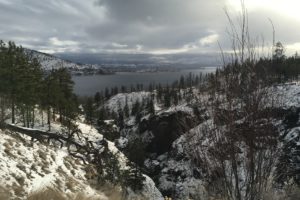 Bear Creek Park - West Kelowna
With easy access off Westside Rd., this kid and dog friendly park has 3 hiking loops that take between 15 minutes and 2 hours to complete in any season. The trails feature foot bridges, lots of stairs, a lovely waterfall, and of course, a beautiful view of Okanagan Lake and the W.R. Bennett floating bridge.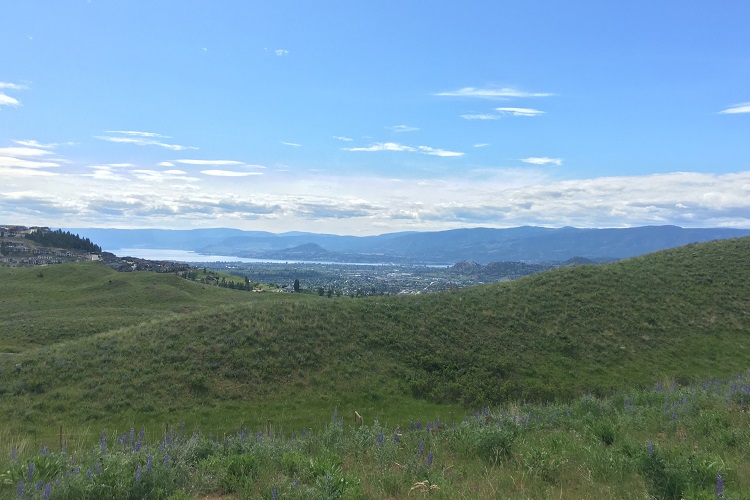 Black Mountain - Sntsk'il'ntən Regional Park
One of Kelowna's newest and largest parks features a rolling endangered grassland ecosystem with hard-packed crushed-gravel trails built in partnership with Westbank First Nation and many Kelowna students. Accessed off Swainson Rd., this park features magnificent views of the Okanagan Valley.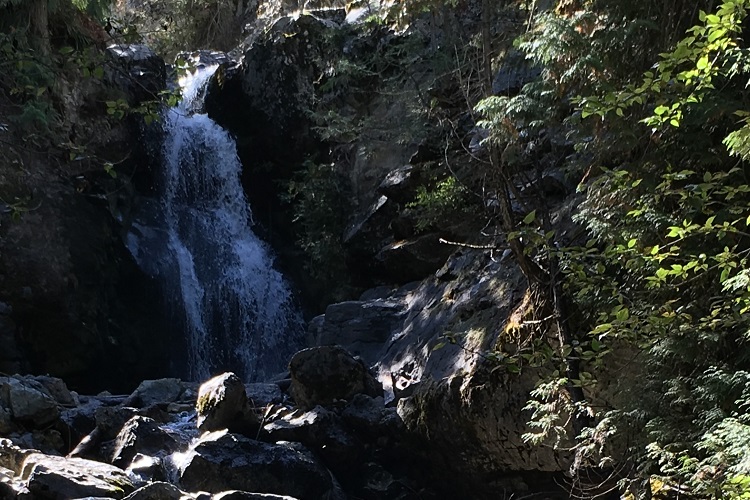 Myra-Bellevue Provincial Park
With many moderate to difficult well-marked trails on the outskirts of Kelowna, this park is popular with hikers, cyclists, runners, horseback riders, and in the winter, snowshoers. Pick a trail, and discover the forest paths, rambling creeks, waterfalls, sinkholes, caves, and of course the local wildlife (from a safe distance).  
Access: Steward Rd. in East Kelowna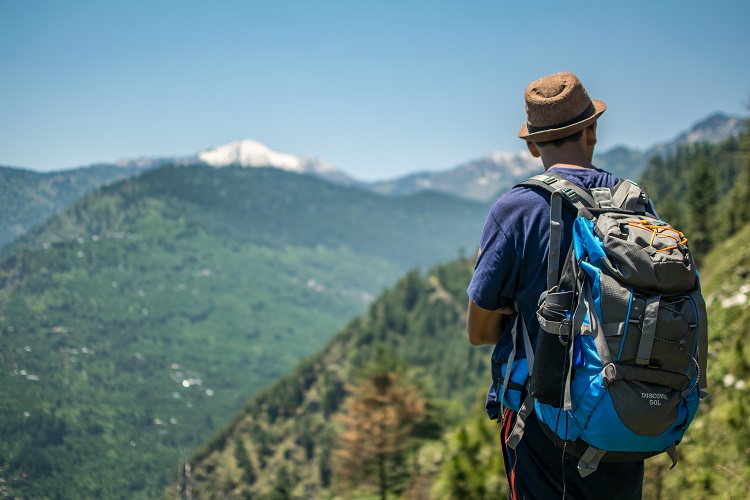 With many moderate to difficult well-marked trails on the outskirts of Kelowna, this park is popular with hikers, cyclists, runners, horseback riders, and in the winter, snowshoers. Pick a trail, and discover the forest paths, rambling creeks, waterfalls, sinkholes, caves, and of course the local wildlife (from a safe distance).  
Access: Ponderosa Dr. in Peachland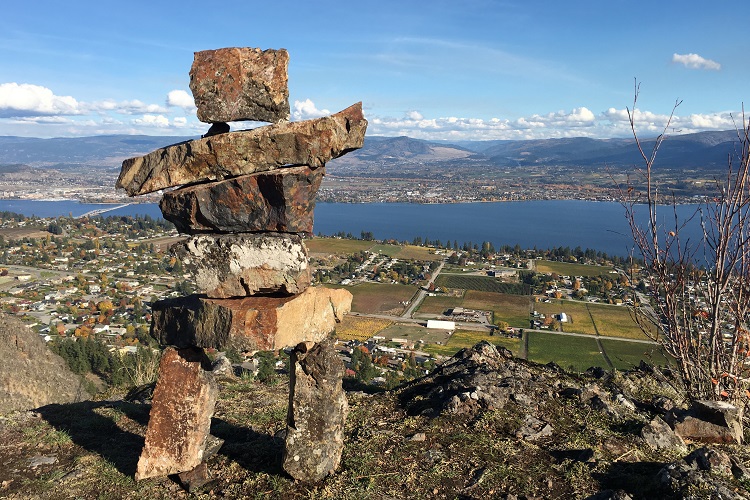 With a 275 m elevation gain, this climb features a series of switchbacks up an extinct volcano, where you can see ancient lava flows, unique rock formations, and even Antelope Brush, a desert plant not usually found this far north. At the top, you'll get an unbelievable 360° view of the Central Okanagan.
Access: E. Boundary Rd. in West Kelowna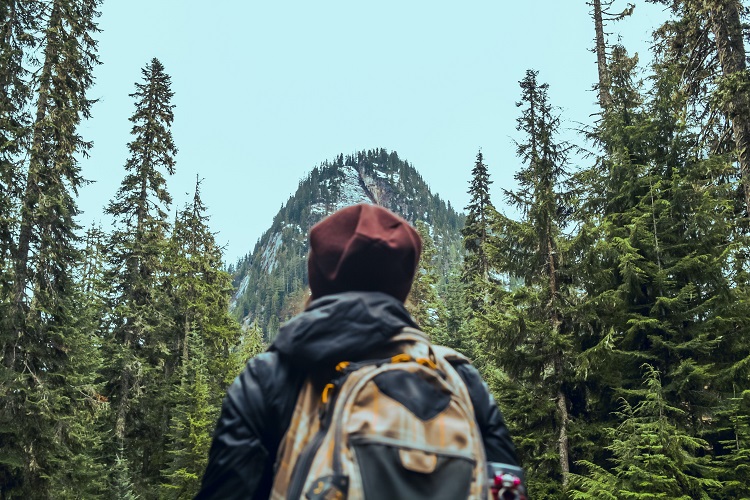 Rising up from Okanagan Lake through rocky grassland and open woodlands, this trail climbs 400 m to a viewing platform, perfect for catching a glimpse of the legendary lake monster, Ogopogo. In the early 1900s, angora goats belonging to a pioneer family grazed on these slopes. Remember to take water, there's not much in the way of summer shade.
Access: Seclusion Bay Rd. in West Kelowna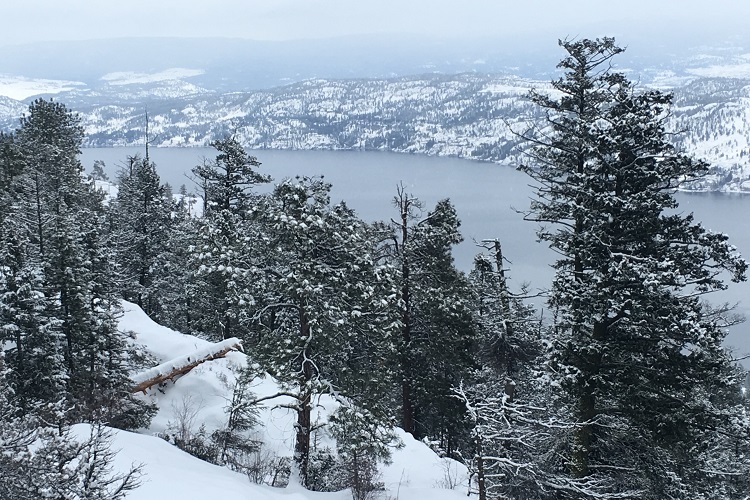 Rose Valley regional park
Ranging from moderate to difficult, there's a network of hiking, biking, and snowshoe trails up and around the Rose Valley Reservoir. These trails feature panoramic views, volcanic cliffs marked by small caves, Ponderosa pine, and Douglas fir forests.
Access: Westlake Rd. in West Kelowna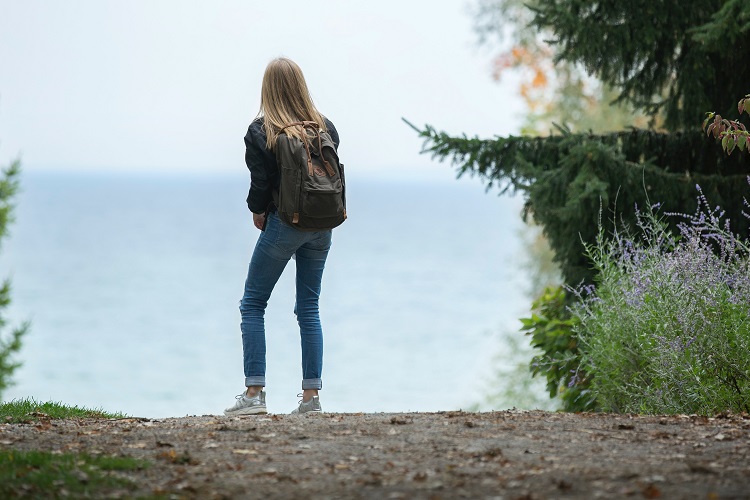 The trailhead is about 36 km from Kelowna, on a bumpy gravel forest road, where a 4×4 vehicle is definitely recommended. The trail itself is short, beautiful, and challenging. Past a burnt forest, there's some ropes that help you down to the bottom of the falls. It helps to have some gloves and good hiking boots when descending, but it's worth it, as you look up at the amazing 60 m high waterfall plummeting to the stream below.  
Access: Terrace Mountain Rd. near Fintry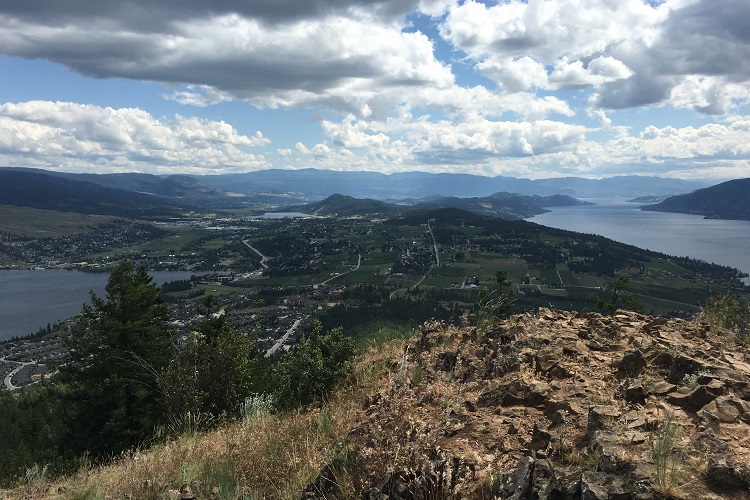 Start from Wood Lake in Lake Country, and wind your way up this challenging, well-marked trail network to the summit of Spion Kop or 'Lookout Hill.' You'll pass through cool forested areas, and under an ominous basalt cliff on your way to the top. Far below there's a patchwork quilt of vineyards and orchards, and you'll have a spectacular view of Kalamalka, Wood, Ellison, and Okanagan Lakes. You'll see why we call this area Lake Country.
Access: Pelmewash Parkway in Lake Country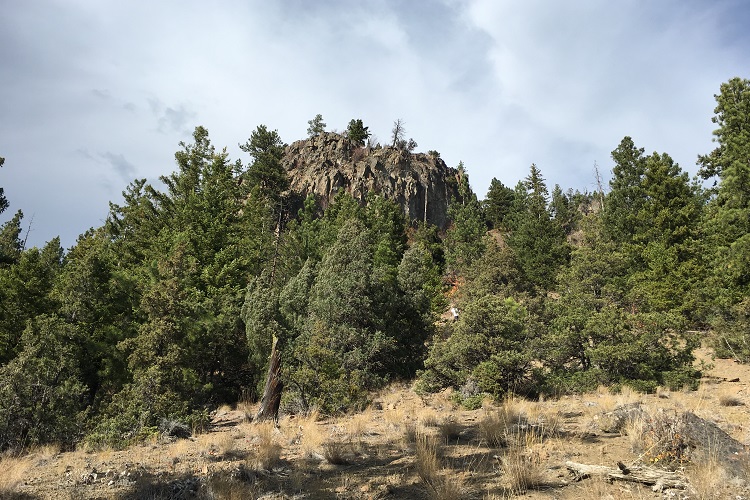 This steep climb has an elevation gain of about 800 m and takes between 4 and 6 hours. Along the way you'll observe cactus, tall buttercups, Wild Rose bushes and maybe even some grazing mountain goats. The trail follows a service road and starts out very steep, but eases up as you hike through dense woods up to the communication towers at the top. You're far above Kelowna and the Okanagan Valley, enjoy the view and a picnic lunch before tackling the tricky descent.
Access: Bear Creek Main in West Kelowna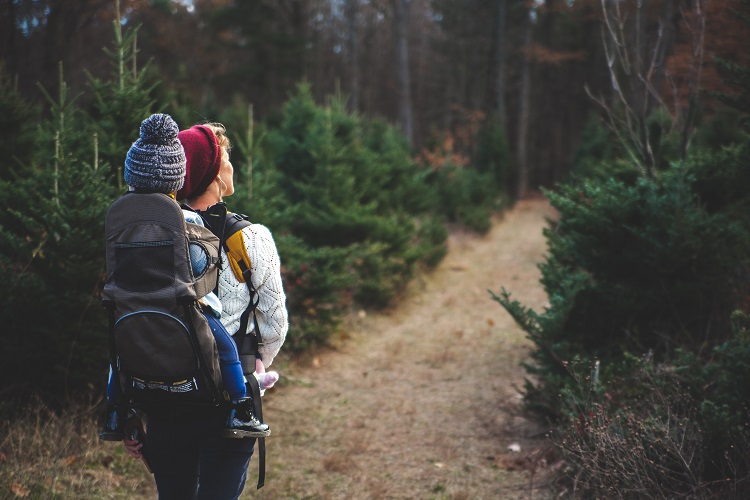 This is an out and back, 906 m elevation gain trek up to the top of Mt. Hayman, which typically takes 4 to 6 hours. The hike will take you through dense forest, wetlands, and meadows, and at the summit, you're rewarded with a breathtaking view of the Okanagan Valley. Be prepared, bring water, snacks, and bear spray.
Access: Bartley Rd. in West Kelowna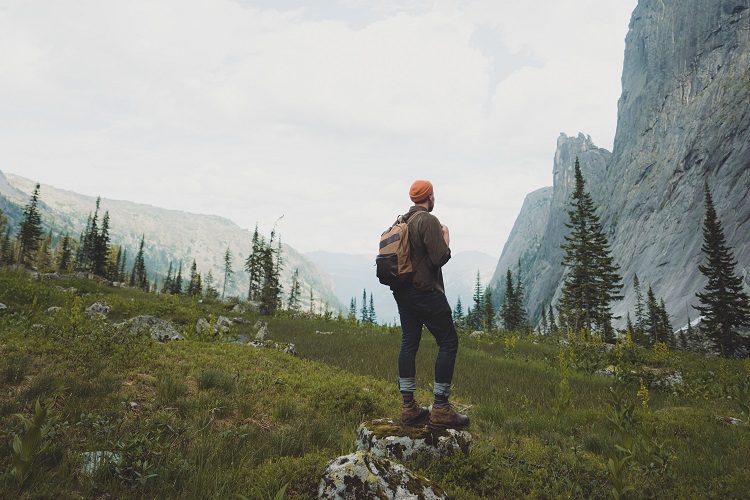 At the southern edge of Myra-Bellevue Provincial Park you'll find Little White Mountain, the younger sibling of Big White. The forestry roads to the trailhead are about 32 km of gravel and mud, so a 4×4 is recommended. There's a short but challenging ascent, followed by a picturesque plateau with meadows, ponds, and of course panoramic views of the valleys. Closer to the top, you'll notice the huge granite wall and a small lake. The summit has an elevation of 2171 m, so expect snow until at least mid-June.
Access: Highway 33 & off-road via 3 Forestry Service Roads
you've made it to the top...
Let's plan what to do next!